What do we do?
Dzignlight Studios works together with your team to create scientific and medical animation that is as beautiful as it is accurate and inspirational. Our job is to help make sure your presentation gets through med-legal the FIRST time. We have been specializing in medical animation for over 15 years.



Beautiful Communication is the hallmark of Dzignlight Studios.
Our Services Include:
Medical & Scientific Research and Storyboarding
MoA Videos - Pharmaceutical Products, Surgical and Medical Devices
Medical & Scientific Equipment Animation
Medical Animation and VFX
Turnkey Production Including Shooting, Music, VO, & Edit.
Stereoscopic 3D Medical Animation
Scientific animation for giant screen (IMAX™, OMNIMAX™) presentation
Animation Deliverables for iPad and other mobile display platforms
Our first medical animation project was completed in 1996, and we continue to help customers all over the world with media that is on time, on target, and on budget.

Contact Us



I want something I don't see on your reel!

Many people believe that a demo reel shows the extent of what a company can do... on the contrary, a reel only shows what we have done. EVERY animation on our demo reel was done for that client for the FIRST time. We are a professional design firm. We create more new looks and new ideas before lunch than most people do all day.

Our demo reel shows where we have been,
not where we are going.

Challenge us with YOUR unique project!

View our reel: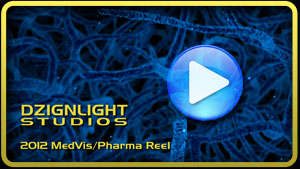 What is an MoA?


Sometimes referred to as "Mechanism of Action", "Method of Action", or even "Mode of Action", basically, it tells how something works. Usually, a presentation of this sort starts by describing the environment in which the product will work. Then, the presentation shows the undesired situation that the product remedies, and then how the product solves the situation. These videos are created with exacting detail to not only show precisely what the product does, but also designed to not accidently imply that the product does something that it does not actually do. This keeps the medical legal department happy.
How are Animations Used?


Our Medical/Scientific animations have been used for sales training, clinical product marketing, direct to consumer marketing, and professional education. Medical and Scientific animation can make the invisible clearly visible. It can simplify a very complicated environment and only show the exact players that are necessary to describe a process. Furthermore, it can inspire and teach in a way not afforded by any other medium.